rak.jazerx

PVT

Posts

: 6





Réputation

: 3

---




Regist Date

: 2015-07-18

on Wed 22 Jul 2015, 13:49
Message reputation : 100% (1 vote)
I've been seeing Snipers going Marksman mode (because of its Very high atk spd) when they've reached Lv 3, because of the HV Ammunition.
It feels like that the 10% in the skill descrip is actually 100%

.
Anyways, it feels like the role of being a Sniper is diminished with its "Rapid" atk spd, and the Sniper class is like Marksman 2.0.
I hope that my report makes sense or something like that

.
Lv 1 base atk spd of Sniper
Skill Description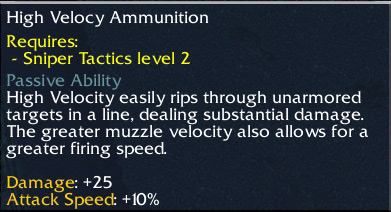 Sniper turned into a Marksman with its UBER atk spd :O
s3rius

LTG

Posts

: 1931





Réputation

: 55

---




Regist Date

: 2006-02-11

on Wed 22 Jul 2015, 20:21
It's actually 1000% *cough*. But that puts the Sniper waaay over its maximum attack speed, so he doesn't actually shoot 10x faster.

And its a prime example of what happens if I'm too lazy to properly test even small changes x.x

....................
Anime is a prime example of why two nukes just weren't enough
Way to go, America!
Permissions in this forum:
You
cannot
reply to topics in this forum